California girl falls in love with young man of Haryana, came from America to marry him
9th October 2019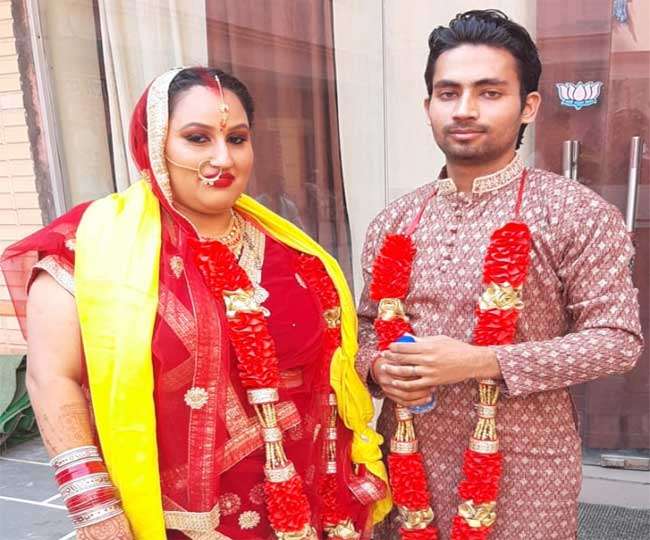 Karnal, Haryana. The color of love is the most unique and never ending. It is a relationship of hearts untouched by borders and any discrimination. A live example of this is found here. A friend from California's Bala in California changed from a friend in Haryana to a friend on Facebook. When love grew, it became difficult for them to stay away and the foreign woman broke all the bonds and boundaries and took seven rounds with her lover.
p> This is the story of California's Malina Celina Lopez and Susheel Saini of Karnal, Haryana. Chatting started after their friendship on Facebook about two and a half years ago. This friend slowly turned into love and then the two decided to be one. Malina Celina Lopez Saroja, who arrived in India, married Sushil and took seven rounds with him in Hindu customs at the Shri Krishna temple in Sector-14, Karnal.
Chatting started on Facebook about a year and a half ago
> The bride and groom are also very happy with this marriage. The family continues to receive congratulations. Vikas Colony resident youth Sushil Saini's family welcomed the new bride as per custom. Sushil Saini has studied till BA second year and Celina Lopez is BSc. He has also studied computer science.
Malina Celina Lopez told Jagran that she was always attracted to Indian culture. She likes it very much. In the US, the wedding rituals and customs are completely different from India, but she has always been influenced by the customs here. There is immense love among the people here and all the families have welcomed it fully. He was accepted as daughter-in-law also He said that he has three sisters and four brothers. The mother died a few years ago. The father is also very happy with his wedding of choice. He is very happy with the love he has received in Karnal.